---
T h e C o t o p a x i a n P r e s s
Cotopaxi, Colorado
---
Cotopaxi Cemetery
---
The Cotopaxi Cemetery's first recorded burials were in 1882. These first burials were three children who were members of the Cotopaxi Russian Jewish agricultural colony that was located in and around Cotopaxi from 1882-1884.
To reach the Cotopaxi cemetery, from US HWY 50 take Fremont County Road 12 north about 1/2 mile and you will see the Cotopaxi School on your left. Just past the last buildings on your left (the school track is on your right) you will see a small road sign "cemetery". Turn left and follow this road behind the school for about 1/4 mile. You can't miss it.
---
Please also visit the Cotopaxi Colony Gravesite page
---
There are some 27 or 2
8 Veteran
graves in the Cotopaxi cemetery, with one Confederate grave (Joseph & Mary Dyer) being located adjacent to the colony gravesite. This Confederate grave is marked by the black tombstone seen to the right of the fenced colony graves below:
click on image for larger version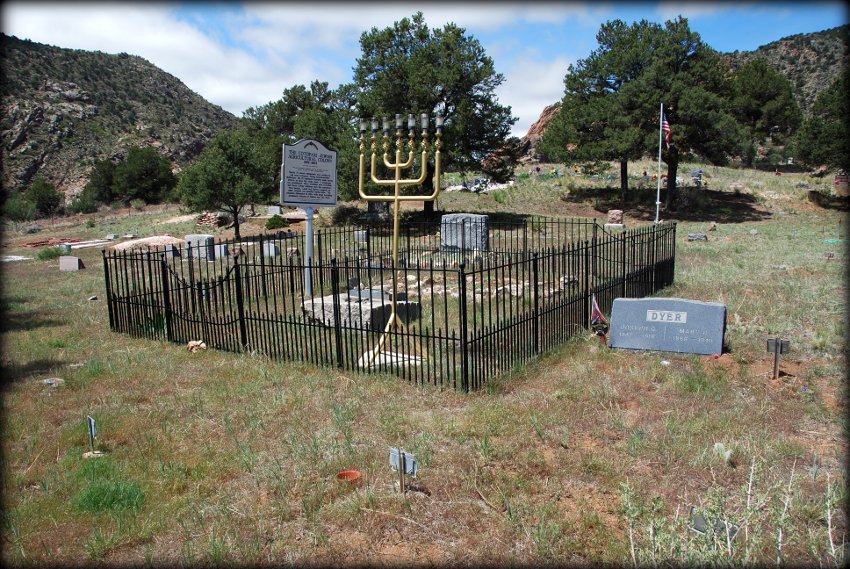 Cotopaxi Cemetery, May 18, 2016
Companion to this Confederate grave is another that was simply designated by a temporary marker as "Dyer Baby". You can see this temporary marker in the photo above, just to the right of the black Dyer gravestone.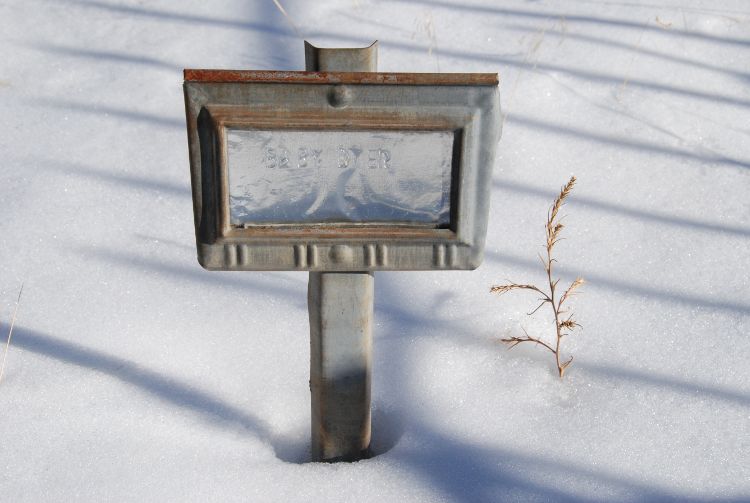 Baby Dyer gravesite, December 20, 2016
My children, Rachel and Jacob, and I were able to replace this temporary marker with a stone marker. It is great to have teenagers! I'll need to return in warmer weather and place a mortar joint between the top and bottom rocks. I am assuming that Joseph and Mary Dyer were the parents of this baby. Note I faced this marker the "wrong" way out so that it would match the direction the child's parents' gravestone faces.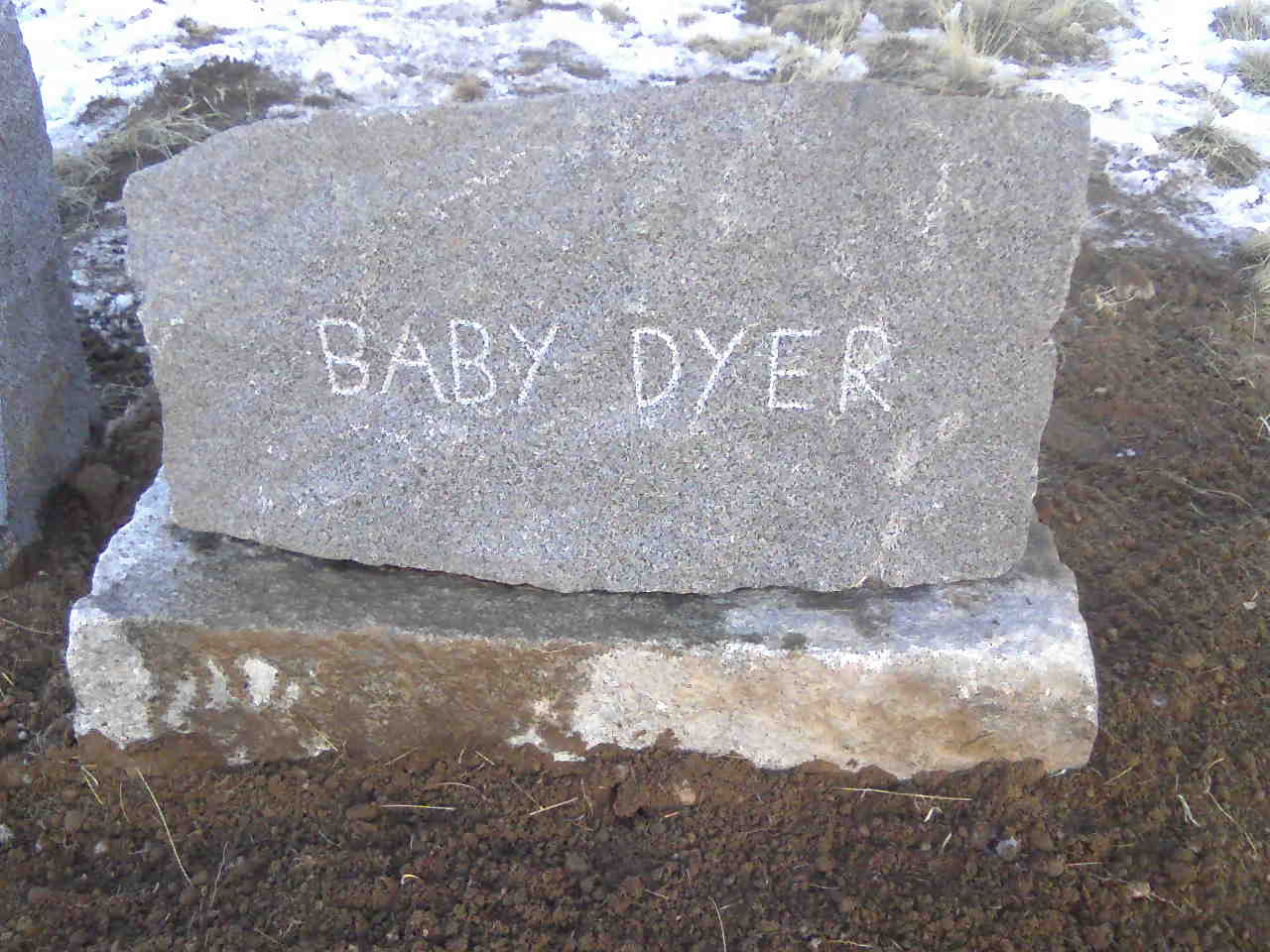 Baby Dyer gravesite, December 24, 2016
The base rock is white/grey granite from the McCoy Gulch quarries, and the upper black granite is from the east end of Plum St., where I believe this was part of native stone there - a large boulder split in place. I believe this rock was here when the Dyers were living in Cotopaxi. I acquired this from the BLM in about 2007.
I realize my "handwriting" leaves much room for improvement, however, I work cheap. I'm hopeful to continue this replacement of other temporary grave markers over time. Don't hold your breath while you wait for that, as I move slow.
---
Separated from the main Cotopaxi Cemetery, on the top of an adjoining hill, is a small gravesite.
There is a dilapidated wooden fence surrounding a single remaining gravestone.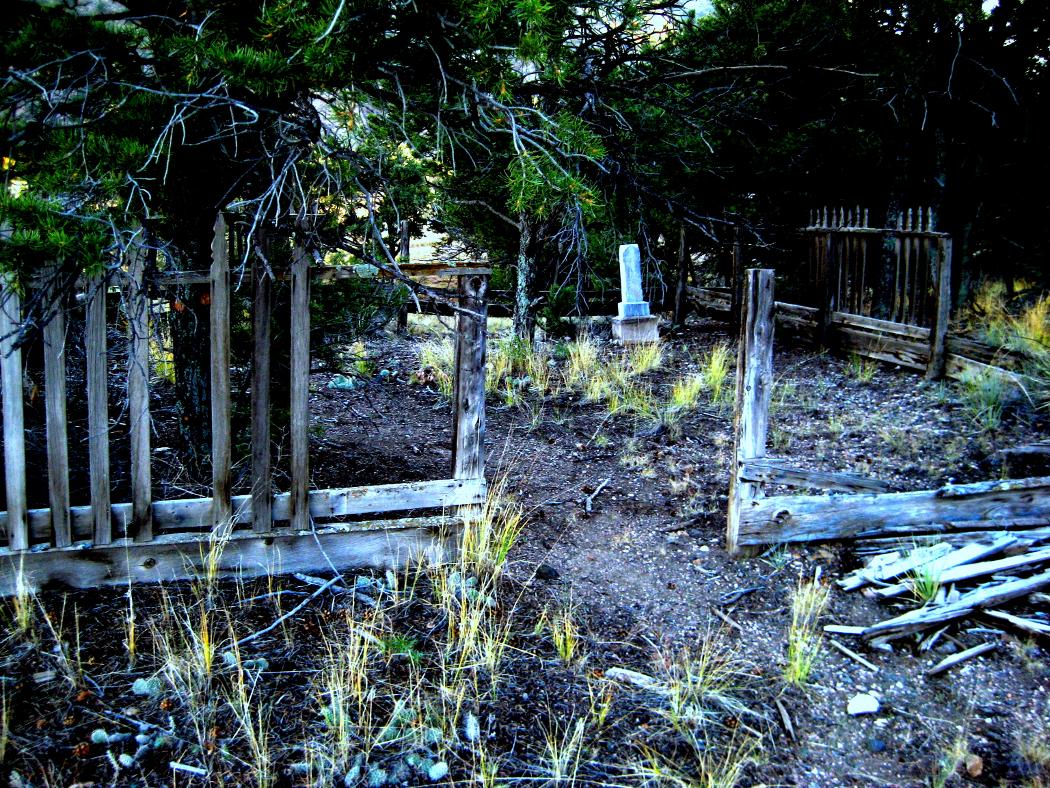 She's not alone...
Check out the Esther L. Young gravesite story here
---
Back to Cotopaxi Colorado History Page
♪ Back to Cotopaxi-Colorado Home ♪
---
Photos © 2007-2017 Nelson Moore
Copyright © 2007-2017 Nelson Moore. All Rights Reserved.