75.3% Jewish
"The country's population is now majority native-born, with the so-called "Sabras" making up 70 percent of Israelis. About half of them are second generation"
Are we near the last of the generation of spies?
An interesting type of Passover?
The Gospel revealed to Moses.
Exodus 33:11 And Jehovah spake unto Moses face to face, as a man speaketh unto his friend. And he turned again into the camp: but his minister Joshua, the son of Nun, a young man, departed not out of the Tent.
12 And Moses said unto Jehovah, See, thou sayest unto me, Bring up this people: and thou hast not let me know whom thou wilt send with me. Yet thou hast said, I know thee by name, and thou hast also found favor in my sight.
13 Now therefore, I pray thee, if I have found favor in thy sight, show me now thy ways, that I may know thee, to the end that I may find favor in thy sight: and consider that this nation is thy people.
14 And he said, My presence shall go [with thee], and I will give thee rest.
15 And he said unto him, If thy presence go not [with me], carry us not up hence.
16 For wherein now shall it be known that I have found favor in thy sight, I and thy people? is it not in that thou goest with us, so that we are separated, I and thy people, from all the people that are upon the face of the earth?
17 And Jehovah said unto Moses, I will do this thing also that thou hast spoken; for thou hast found favor in my sight, and I know thee by name.
18 And he said, Show me, I pray thee, thy glory.
19 And he said, I will make all my goodness pass before thee, and will proclaim the name of Jehovah before thee; and I will be gracious to whom I will be gracious, and will show mercy on whom I will show mercy.
20 And he said, Thou canst not see my face; for man shall not see me and live.
21 and Jehovah said, Behold, there is a place by me, and thou shalt stand upon the rock:
22 and it shall come to pass, while my glory passeth by, that I will put thee in a cleft of the rock, and will cover thee with my hand until I have passed by:
23 and I will take away my hand, and thou shalt see my back; but my face shall not be seen.

briefly; vs 18, Jehovah shows his Glory. Jehovah (Father) is not visible. So His Glory we can see is the "Glorified" form of Jesus.
vs. 20 Man cannot see the Father's glory and live. We can see the Son, the ONE mediator between Man and God (Father)
vs 21. A place by me. People, places, and things are nouns. Jesus is at the right hand of God the Father. Jesus is The Rock of our Salvation. Jesus is the foundation stone.
Vs. 22 cover thee with my hand until I have passed by: The Blood of the Lamb, Jesus, covers - yea, is propitiation for - our sin. When God (Father) sees the Blood of the Lamb (Jesus, His right hand) He passes over.
cover thee with my hand - Rashi's Commentary on the Chumash: says "the Targum renders this I will protect thee with My word."
John 1:1 & John 1:14 show the Word is Messiah, and that The Word Tabernacled with Israel.
---
The Right Stuff
Reasoning Together (first fruits of zion)
teaching why Messianic Gentiles do not have to keep the entire law, but Messianic Jews do.
Part 1) The Tipping Point: Acts 15; 21
Part 2) Acts 15 Re-Examined Wow on the Amos prophecy!
Part 3) The Lone Voice of FFOZ

(www.walkwitz.com) walkwitz is close to the right stuff
---
The color of the robes put on Jesus at His arrest and trial (www.walkwitz.com) walkwitz is close
Regarding the color of Jesus' own garment - Blue - see Exodus 28:31&32, the description of the High Priest's robe of the ephod:
"Exodus 28:31 And thou shalt make the robe of the ephod all of blue.
Ex 28:32 And it shall have a hole for the head in the midst thereof: it shall have a binding of woven work round about the hole of it, as it were the hole of a coat of mail, that it be not rent."
It was like a poncho. Note this is the garment the Roman soldiers cast lots for - - that it not be rent - -a prophecy fulfilled. BUT Messiah not of Levi...
Chronologically, the Colors of garments Jesus wore during his arrest and trial:
Jesus wore a blue poncho/chiton
Lu 23:11 Herod put a white esthes on Him
Jn19 Pilate put a purple himation on Him.
Mt 27:28 Soldiers put a Scarlet clamus on Him
Mt 27:31 Soldiers put his Blue garment back on Him.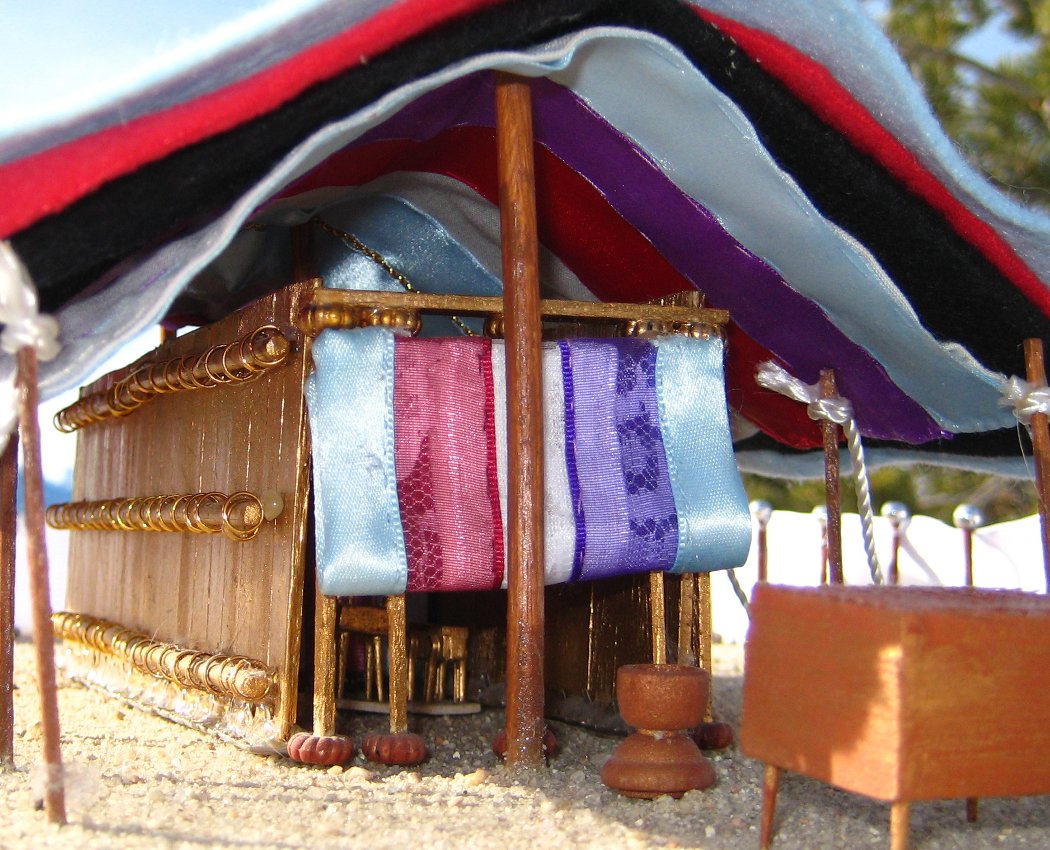 above; the Tabernacle (ten curtains) below the black? goat hair covering, red ram's skin, and blue seal-skins or porpoise skins.
The color sequence of the Tabernacle colors shown is possibly incorrect.
Bluewhite purpleScarletBlue
It seems possible this was the sequence of colors in the Tabernacle and it's veil, screen, gate.
The Tabernacle was the ten curtains defined in Exodus 26. That one color is repeated in each of the two sets of 5 curtains is dictated by 4 only colors given (Ex 26:1 fine twined linen, and blue, and purple, and scarlet) . Verse 3-4 indicates this is the color blue: "Five curtains shall be coupled together one to another; and the other five curtains shall be coupled one to another. vs.4 "And thou shalt make loops of blue upon the edge of the one curtain from the selvedge in the coupling; and likewise shalt thou make in the edge of the curtain that is outmost in the second coupling.
and so a blue curtain would have been at the ends of each set of curtains.
Question: was the color sequence the same in both sets (they were joined to form one tabernacle)
That is, walking through the (under the curtains) tabernacle, approaching the veil, we can chronologically walk through the colors as they represent the timeline of the trial of Jesus.
After the veil was rent, approaching the Father, does the sequence change?
Keep in mind that near or at God the Father is the color blue: Exodus 24:10 "and they saw the God of Israel; and there was under his feet as it were a paved work of sapphire stone, and as it were the very heaven for clearness.

Question: Did the different sets represent different things/times/prophecy?
When did the "Church" come into existence? pdf file; (www.walkwitz.com)
"Actually, a kyriakon, a house of a lord, was a pagan temple in
New Testament times, as all pagan gods were called lord so-and-so."
---
Richard Goldstone recants. What price the Israel witch-hunt now? (spectator) april 2

Obama didn't watch actual shooting of Osama (pbs newshour) may 3
It wasn't Obama's call ? (atlas shrugs) may 3
sort of newsy: no trial for oSama (reuters) may 1
in other pagan news:
Catholics dig JP out of the ground to make him a saint. (reuters) may 1
oops, not a saint yet, they are still working on it. lol
"triggered a new wave of anger from sex-abuse victims because much of the criminality occurred during his 27-year watch"
---
Torah Yesterday
Saturday, April 30
Did Rashi consult the New Testament writings?
Leviticus 19:11 "....and not you lie, and not you deceive..."
so that cuts out the use of paraphrase commentaries in place of translations.
Changing the translation of a Hebrew word to "sojourner - alien - proselyte" so that it fits doctrine is a lie.
vs. 9 "and-when-to-reap-you אֵת (there is an untranslated alef-tahv here) harvest-of land-of-you not you-complete corner-of field-of-you to-reap-and-gleaning-of harvest-of-you not you-gather
vs 10 "and-vineyard-of-you not you-pick-twice and-fallen-grape-of vineyard-of-you not you-pick-up for-the-poor and-for-the-alien you-leave them I Yahweh God-of-you."
and, not to mention, don't wear mixed material garments.
the wild olive branch is grafted in. Romans ch 11. This engrafting appears contrary to Jewish thought.
RAMBAN said "The Torah also prohibits sowing different seeds near one another because the nature and form of seeds change when they derive nutrients from each other. The resulting kernel will be a hybrid of two species."
God says:
Lev. 19: 33 "and-when he-lives with-you alien in-land-of-you not you-mistreat him
vs34 " as-native from-you he-must-be to-you the-alien | the-one-living with-you and-you-love to-him as-yourself for aliens you-were in-land-of Egypt I Yahweh God-of-you."
Rashi's Commentary on the Chumash:
: "AND IF A STRANGER SOJOURN WITH THEE IN THE LAND,YE SHALL NOT VEX HIM -This implies vexing him with words (cf. Rashi on Ex 22:20).- do not say to him, 'Yesterday you were an idolater and now you come to study the Torah which was given from the mouth of the Almighty!' ...FOR YE WERE STRANGERS [IN THE LAND OF EGYPT] - 'DO NOT REPROACH THY FELLOW-MAN FOR A FAULT WHICH IS ALSO THINE'....I am the Lord your God -- Thy God and his God am I! (your God -- the God of both of you).
We note now the much similar comment made in the New Testament when certain "Messianic" Jews were clamoring that the gentile Christians needed to keep the law.
Act 15:1 And certain men came down from Judaea and taught the brethren, [saying], Except ye be circumcised after the custom of Moses, ye cannot be saved.
Act 15:2 And when Paul and Barnabas had no small dissension and questioning with them, [the brethren] appointed that Paul and Barnabas, and certain other of them, should go up to Jerusalem unto the apostles and elders about this question.
The question was very specific:
Act 15:5 But there rose up certain of the sect of the Pharisees who believed, saying, It is needful to circumcise them, and to charge them to keep the law of Moses.
Act 15:6 And the apostles and the elders were gathered together to consider of this matter.
Act 15:7 And when there had been much questioning, Peter rose up, and said unto them, Brethren, ye know that a good while ago God made choice among you, that by my mouth the Gentiles should hear the word of the gospel, and believe.
Act 15:8 And God, who knoweth the heart, bare them witness, giving them the Holy Spirit, even as he did unto us;
Act 15:9 and he made no distinction between us and them, cleansing their hearts by faith.

Act 15:10 Now therefore why make ye trial of God, that ye should put a yoke upon the neck of the disciples which neither our fathers nor we were able to bear? (Note the similarity to Rashi's comment above!! Did Rashi (d.1105AD) consult the New Testament?!?)

Act 15:11 But we believe that we shall be saved through the grace of the Lord Jesus, in like manner as they.
Did you catch that? It was more of a question of if the Jews were saved. Yes, in like manner as the Gentile Christians.
James concurred:
Act 15:19 Wherefore my judgment is, that we trouble not them that from among the Gentiles turn to God;

the answer to the specific question: Do the gentile Christians have to keep circumcision AND the law of Moses?
Act 15:20 but that we write unto them, that they abstain from the pollutions of idols, and from fornication, and from what is strangled, and from blood.
Here again is the answer to the specific question: Do the gentile Christians have to keep circumcision AND the law of Moses?
Act 15:28 For it seemed good to the Holy Spirit, and to us, to lay upon you no greater burden than these necessary things:
Act 15:29 that ye abstain from things sacrificed to idols, and from blood, and from things strangled, and from fornication; from which if ye keep yourselves, it shall be well with you. Fare ye well.


Now I have read commentary that said the reason for Leviticus 19:33 was so that the alien would not get discouraged and leave (leave God).
However, I think that if you consider the practical reality of 40 gentiles holding the tzittzit of one Jewish man, another view forms.
Yes, the 40 gentiles are blessed through the Jew. But 40 gentiles surrounding the Jew provide support and protection. They are anchoring the tallit (tabernacle) that covers the Jew. That is, the 40 gentiles are not a burden, but a blessing..
I think until these two streams figure out their commonality, we are stuck in a sort of limbo. We are not there yet.
This ruling was Levitical:
Lev 17:11 For the life of the flesh is in the blood; and I have given it to you upon the altar to make atonement for your souls: for it is the blood that maketh atonement by reason of the life.

Lev 17:12 Therefore I said unto the children of Israel, No soul of you shall eat blood, neither shall any stranger that sojourneth among you eat blood.

(48 boards comment here)
Moving on to the haftarah reading, We see some details of God's "simple" plan of salvation.
Eze 20:25 Moreover also I gave them statutes that were not good, and ordinances wherein they should not live;


Eze 20:26 and I polluted them in their own gifts, in that they caused to pass through [the fire] all that openeth the womb, that I might make them desolate, to the end that they might know that I am Jehovah.

Eze 20:37 And I will cause you to pass under the rod, and I will bring you into the bond of the covenant;
Oh, it is bondage after all.
Eze 20:49 Then said I, Ah Lord Jehovah! they say of me, Is he not a speaker of parables?
New Testament portion:
1Pe 1:1 Peter, an apostle of Jesus Christ, to the elect who are sojourners of the Dispersion in Pontus, Galatia, Cappadocia, Asia, and Bithynia,
1Pe 1:2 according to the foreknowledge of God the Father, in sanctification of the Spirit, unto obedience and sprinkling of the blood of Jesus Christ: Grace to you and peace be multiplied.

1Pe 1:3 Blessed [be] the God and Father of our Lord Jesus Christ, who according to his great mercy begat us again unto a living hope by the resurrection of Jesus Christ from the dead,

1Pe 1:4 unto an inheritance incorruptible, and undefiled, and that fadeth not away, reserved in heaven for you,

1Pe 1:5 who by the power of God are guarded through faith unto a salvation ready to be revealed in the last time.

1Pe 1:6 Wherein ye greatly rejoice, though now for a little while, if need be, ye have been put to grief in manifold trials,

1Pe 1:7 that the proof of your faith, [being] more precious than gold that perisheth though it is proved by fire, may be found unto praise and glory and honor at the revelation of Jesus Christ:

1Pe 1:8 whom not having seen ye love; on whom, though now ye see him not, yet believing, ye rejoice greatly with joy unspeakable and full of glory:

1Pe 1:9 receiving the end of your faith, [even] the salvation of [your] souls.

1Pe 1:10 Concerning which salvation the prophets sought and searched diligently, who prophesied of the grace that [should come] unto you:

1Pe 1:11 searching what [time] or what manner of time the Spirit of Christ which was in them did point unto, when it testified beforehand the sufferings of Christ, and the glories that should follow them.

1Pe 1:12 To whom it was revealed, that not unto themselves, but unto you, did they minister these things, which now have been announced unto you through them that preached the gospel unto you by the Holy Spirit sent forth from heaven; which things angel desire to look into. The New Covenant.

1Pe 1:13 Wherefore girding up the loins of your mind, be sober and set your hope perfectly on the grace that is to be brought unto you at the revelation of Jesus Christ;

1Pe 1:14 as children of obedience, not fashioning yourselves according to your former lusts in [the time of] your ignorance:

1Pe 1:15 but like as he who called you is holy, be ye yourselves also holy in all manner of living;

1Pe 1:16 because it is written, Ye shall be holy; for I am holy.

1Pe 1:17 And if ye call on him as Father, who without respect of persons judgeth according to each man's work, pass the time of your sojourning in fear:

1Pe 1:18 knowing that ye were redeemed, not with corruptible things, with silver or gold, from your vain manner of life handed down from your fathers;

1Pe 1:19 but with precious blood, as of a lamb without spot, [even the blood] of Christ:
The life is in the blood.

1Pe 1:20 who was foreknown indeed before the foundation of the world, but was manifested at the end of times for your sake, (this is not a future event.)

1Pe 1:21 who through him are believers in God, that raised him from the dead, and gave him glory; so that your faith and hope might be in God.

1Pe 1:22 Seeing ye have purified your souls in your obedience to the truth unto unfeigned love of the brethren, love one another from the heart fervently:

1Pe 1:23 having been begotten again, not of corruptible seed, but of incorruptible, through the word of God, which liveth and abideth. The fix for Ezekiel 20:25

1Pe 1:24 For, All flesh is as grass, And all the glory thereof as the flower of grass. The grass withereth, and the flower falleth:

1Pe 1:25 But the word of the Lord abideth for ever. And this is the word of good tidings which was preached unto you.
The Word is NEVER lost or hidden from man. The "true version written in Hebrew" is not buried in the bowels of the Vatican. The truth always has been and always will be readily available to man. The fact of the enduring Word is supported in Psalm 12: 6&7
vs6 The words of Jehovah are pure words; As silver tried in a furnace on the earth, Purified seven times.
vs7 Thou wilt keep them, O Jehovah, Thou wilt preserve them from this generation for ever.
and in Matthew 24:35
This is what Jesus said:
Mat 24:35 Heaven and earth shall pass away, but my words shall not pass away.
-Shalom-

---
Torah Yesterday
Saturday, April 23
Exodus 34:6 "And Jehovah passed by before him, and proclaimed, Jehovah, Jehovah, a God merciful and gracious, slow to anger, and abundant in lovingkindness and truth,

Jehovah Jehovah in the Hebrew text is written יהוה | יהוה
The vertical line ( | ) between the two Tetragrammatons is called a disjunctive mark.
There are other occurrences of a disjunctive mark:
Genesis 22:11 "Abraham | Abraham"
1 Samuel 3:10 " Samuel | Samuel"
Zohar, Vol I, P375 states:
"AND THE ANGEL OF THE LORD CALLED UNTO HIM...ABRAHAM, ABRAHAM. There is in the text a disjunctive mark between the two Abrahams, to show that the latter was not like the former: the later [120b] was the perfected Abraham, while the former was still incomplete. Similarly, in the passage where the name Samuel is repeated with a disjunctive line between (ISam. III, 10), the second is the perfected Samuel, whilst the first was not yet so. The second Samuel was a prophet, but not the first. But when we come to "Moses, Moses" (Ex.III,4) we do not find any pausal sign between, for the reason that from the day Moses was born the Shekinah never departed from him. R. Hiya said that the angel repeated Abraham's name in order to animate him with a new spirit, and spur him to a new activity with a new heart."
From Apologetics 9, The Cloud of Jehovah's Presence, by Mount Publications, pp6 we read:
"Why is there a disjunctive mark between the two Jehovahs in Ex. 34:6? Let me expand those verses.
'And Jehovah (the Son) descended in the cloud, and stood with him (Moses) there, and proclaimed the name of Jehovah (the Father). And Jehovah (the Father) passed by (see Ex. 33:17-23) before him (Moses), and proclaimed, Jehovah (the Son, with the Father as creator) | Jehovah (the Son, the Savior).'"
Rashi's Commentary on the Chumash:
" 'ה' ה THE LORD, THE LORD --This is the attribute of divine mercy. The one (the first 'ה ) alludes to God having mercy on the sinner before he sins2 and the other after he has sinned and repented. "
Shalom!

---
Palestinian Authority Police Murder Israeli praying at Joseph's Tomb (arutz sheva) apr 24
a difference between Jew and Muslim:
Jews wear a Tallit; Muslims wear a rag.
on that note, WE see there remains no free speech for Bible Thumpers in the USA;
Koran burning Bible Man Terry Jones arrested (the detroit news) apr 24
for not paying a 1$ "bond" that was set before him because he wanted to demonstrate
outside a mosque on Good Friday.
This is in Dearborn, Michigan, (USA) where they hold an annual International Arab Festival
Dearborn, Michigan: Camel City, USA
---
A Gentile Christian Messianic Passover Haggadah 2011
a rough draft with some changes, including:
In Judaism, there is a teaching story about Jewish four sons.
Here's an outline of a story about 4 Gentile sons. Each has distinctly different beliefs, and each will be in the future Kingdom of G-d.
A Gentile at the time of Messiah, say A.D. 35, had 4 sons.
1. One gentile son did not keep the Jewish law, did not know Jesus, did not know the Noahide laws, but this son WAS A LAW UNTO HIMSELF.
2. One Gentile son kept the Noahide Laws. This son is not a Gentile Proselyte to the law or Gentile Christian. This son is a Noahide.
3. One Gentile son did not know Jesus, but attached himself to Israel, keeping all the Jewish law. This son was a Gentile proselyte to the law.
4. One Gentile son understood Jesus was the Jewish Messiah. He Trusted Jesus was YHVH. He abstained ONLY from 4 things. This son was grafted into Israel as described in Romans chapter 11. This son is a Gentile Christian.
Each of these sons has a part in the future Kingdom of God.
In order to avoid confusion, you must SEE and UNDERSTAND the differences. Note there is a difference between a proselyte to Judaism and a Gentile Christian.
Note that a person could be a Jewish proselyte before the cross - as were some in the wilderness - or after the cross as even today.
IF YOU SAY THERE IS NO DIFFERENCE, YOU (may, depending on your heart) BELITTLE AND BLASPHEME THE SACRIFICE OF Y'SHUAH THE MESSIAH.
To those that reduce The Favor of The God to something common (such as to say familiar, "renewed")
This is what G-d says:
"A fearful thing to-fall-into hands of-a-living God." - Hebrews 10:31
This is the specific context:
10v28 Some-one having-disregarded (a) law of-Moses, upon two or three witnesses if-dying-off separate-from pities;

10v29 To-how-much of-worse vengeance are-YOU-thinking will-he-be-thought worthy, the (one) having-trodden-down the Son of-the God and having-considered the blood of-the covenant, in which he-was-made-holy, common, and having-insulted-within the Spirit of-the favor?
---
Netanyahu encourages Christian Zionists ( israel today magazine) dated
"Netanyahu noted the Christian Zionism actually preceded modern Jewish Zionism"
Are Netanyahu's "Two States" one Israel and two Christian?
Netanyahu Endorses Citizenship Act Amendment

---
Bible Study Break:
Origin of the word "SANHEDRIN"
The Hebrew " סַנְהֶדְרִי derives from the Greek word "συνέδριον"
Likewise the word "synagogue" has Greek origin.
Jude 5 - - Jesus - saved Israel, that is, brought Israel out of Egypt. apr 5
april notes purposefully difficult
Greek verbs, and of interest, the present tense
- Present Tense -
The present tense usually denotes continuous kind of action. It shows 'action in progress' or 'a state of persistence.' When used in the indicative mood, the present tense denotes action taking place or going on in the present time.
We are being saved (time-continuous)
yes/no?
Are you saved, or are you being-saved?
Next, Jesus Jesus Jesus in the Greek
Q. Is there a grammatical meaning or difference of these forms of the name Jesus?
ιησους ιησου ιησουν
A. The meaning of the name 'Jesus' isn't changed, the differences of spelling reflect the different cases of the noun.
Jesus is not "heal Zeus" the LXX Zachariah 3 prove this. Fascinating study showing that at the crucifixion of Messiah Jesus, the chief priests, scribes, sanhedrin, and possibly Pilate - all knew of the prophecy of Zachariah 3, Thus they all knew this Jesus fit the bill perfectly - even his name, which they had in Hebrew and Greek.
Check out Jesus in the Old Testament
Now, the 71 inspired writers of the Septuagint (LXX) (I'm saying 71 for argument) WOULD NOT HAVE SOUGHT TO PORTRAY THAT JESUS in the book of Zachariah AS ZEUS (understand that Zach. chapters 3 and 6,both refer to Jesus son of Josedek; There is no sense or support to an idea that the Jesus that rebuilt the temple in the 2nd year of Darius was so named by LXX authors in order to portray him as Zeus) . The LXX was ORIGINALLY WRITTEN IN GREEK approximately 250 B.C.
Thus that ridiculous babble put out by the so called "sacred namers" that the Greek ιησους points to Zeus because they sound similar is absolutely refuted.
I've noticed people that belittle New Testament Greek don't know New Testament Greek. Me either, but I can do internet searches.
NONE OF THE FOLLOWING GREEK LEXICONS REFERENCE ZEUS WITH ιησους:
* Moulton & Milligan, pp301 "ιησους - the Greek form of the Hebrew Joshua,"
* Liddell & Scott pp 824 shows ιησους as Joshua or Jesus.
* An Expository Dictionary of New Testament Words, W.E.Vine, pp274 "ιησους is a transliteration of the Heb. 'Joshua', meaning 'Jehovah is salvation,' i.e. 'is the Savior,' 'a common name among Jews, "
* A Greek-English Lexicon of the New Testament, Joseph Henry Thayer, pp300, shows ιησους as Joshua or Jesus.
* A Greek-English Lexicon of the New Testament, Bauer, Arndt, & Gingrinch, pp373 show ιησους as Jeshua, Joshua, Jesus.
The Greek spelling of "Zeus" is Ζεύς ; Διος and Δια
Ζ is capital Zeta, pronounced "dz"
ε is small Epsilon, pronounced "e" as in "get"
ύ is small Upsilon, pronounced French u
ς is small Sigma, pronounced "s"
Although the Zeta looks like an English "Z", it really isn't. It is pronounced "dz" which is closer to our English Z than it is to our "S".
IF there was an early conspiracy to alter the Greek text concerning the name ιησους (Jesus) to reflect Zeus, the conspirators would have used the Zeta -ζ- (pronounced "dz") or the Delta - δ - (pronounced "d") instead of the Sigma (prounounced "s"). That is, instead of spelling it "ιησους" they would have spelled it "ιηζους" (with small Zeta) or "ιηδους" (with small Delta).
But they didn't.
I looked up Zeus in the lexicon by Bauer, Arndt, & Gingrinch. pp.377, "King of the greek gods"
Zeus is spelled Ζεύς ; Διος and Δια are also translated "Zeus". No mention of Jesus or ιησους.
For those that have been too long in the sun, here is a site that proves Jesus is not Zeus.
and here is yet another site that proves:
It is a blasphemous lie to proclaim that the name "Jesus" is derived from Zeus, or means "son of Zeus."
That being said, that is, the Greek is correct, and the "sacred namers" are incorrect in saying Iesous means "hail/heal Zues"....
on the other hand....
YES, in the "Church" (not the assembly), Zeus has replaced Jesus as "another Christ" or better, "another Messiah".
This is a part of Mystery Bablon. Read Hislop's book, Babylon Mystery Religion, it is ONLINE - Free!
I don't agree with some core beliefs of the above webpage, but they explain many points well.
Note it was the Roman Catholic Church during "Mid-evil" times that changed the pronunciation of Jesus to the "z" sound.
Satan always has a copy, but it is always follows the Divine original, because Satan is not omnipotent.
SATAN'S copy looks like Light. Don't kid yourself, satan is SMART
But it is a copy, and a lie.. Always.
********
mar31 notes
Thinking that the Blue sky represents/is the 3rd untranslated Alef-Tahv in the book of Genesis. (vs7)
AS the blue covering of Tabernacle. Note that one of the coverings over the tabernacle (ten curtains combined) was dyed blue.
Note the Tabernacle was the ten curtains of blue, fine linen (white), scarlet/red and purple. Same colors as the veil.
Kohlenberger translation: Genesis 1:6 "and-he-said God let-him-be expanse between the-waters and-let-him-be separating between waters from-the-waters.
vs7 "so-he-made God [alef-tahv] the-expanse and-he-separated between the-waters which from-under to-the-expanse and-between the-waters which from-above to-the-expanse and-he-was so.
But more,
Also represents The Word - Jn:1:1 and Gen. 1:1 (1st Alef Tahv),
and from Psalms; note also "Their line has gone forth"
Also represents the veil in between HOLY of HOLIES and HOLY PLACE - which was rent.
Access granted - One mediator between man and YHVH,
etc etc. more later, or a delete, MUST study.
oops potato update april 1-24
I'll get the hebrew fonts going sometime, but for now
I think the 2nd Alef Tahv is translated "and" between "the heavens" and "the earth". in Genesis 1:1
read from right to left:
בְּרֵאשִׁית בָּרָא אֱלֹהִים אֵת הַשָּׁמַיִם וְאֵת הָאָֽרֶץ׃
the-earth and *** the-heavens *** God he-created in-beginning
The first אֵת Alef Tahv is defined by John 1:1. Jehovah Jesus is the Creator.
The second Alef Tahv prefaced by a Vahv וְאֵת would give some redundancy to the 3rd Alef Tahv in 1:6, with both apparently representing in both places Jehovah Jesus, Creator and Mediator. and more)
This word translated "and" is spelled Vahv-Alef-Tahv. Note that the letter Vahv ו represents a nail.
See: Jehovah Jesus Messiah nailed to the cross. Thus we see the Good News of the Gospel, or the Good News of the Messiah precedes even the Gospel in the Stars!
The Good News Gospel then, precedes the Law and the Commandments.
Note that this letter Vahv ו with a "v" sound, some translate Waw, with a "w" sound, hence use "YHWH" etc., etc., rather than YHVH.
[You can and should do a quick internet search of "Messiah Alef Tahv Genesis 1:1]
So this Alef-Tahv וְאֵת shows the Crucified Messiah between man (earth) and YHVH (heavens).
Showing from Genesis 1:1 that there is ONE mediator between man and YHVH.
This shows: YHVH's ways are complete from the beginning.
Y'SHUAH IS YHVH. This is supported by Acts 15:18 and many OT and NT references.
"Known unto God are all his works from the beginning of the world."
MUST study.MORE
Note, all this before the Gospel in the Stars - hint - "Their line has gone out"
*
*
IF the Alef-Tahv is only used as and indicator of the direct object,
That is, if it is needed for this, and that is the purpose of the Alef-Tahv,
Why were vowel points only added around 900A.D.???
That is, if the ancient Jews versed in Hebrew did not need vowel points, why would they need an indicator of the direct object?
*
*
*********
*
*
*
*
once again,
To those that reduce The Favor of The God to something common (such as to say familiar, "renewed")
"A fearful thing to-fall-into hands of-a-living God." - Hebrews 10:31
This is the specific context:
10v28 Some-one having-disregarded (a) law of-Moses, upon two or three witnesses if-dying-off separate-from pities;

10v29 To-how-much of-worse vengeance are-YOU-thinking will-he-be-thought worthy, the (one) having-trodden-down the Son of-the God and having-considered the blood of-the covenant, in which he-was-made-holy, common, and having-insulted-within the Spirit of-the favor?

only after you have a solid foundation to study, can you move on
*****************
so, again,
from the book "Judaism in Stone" by Hershel Shanks
The Theodotus Synagogue Inscription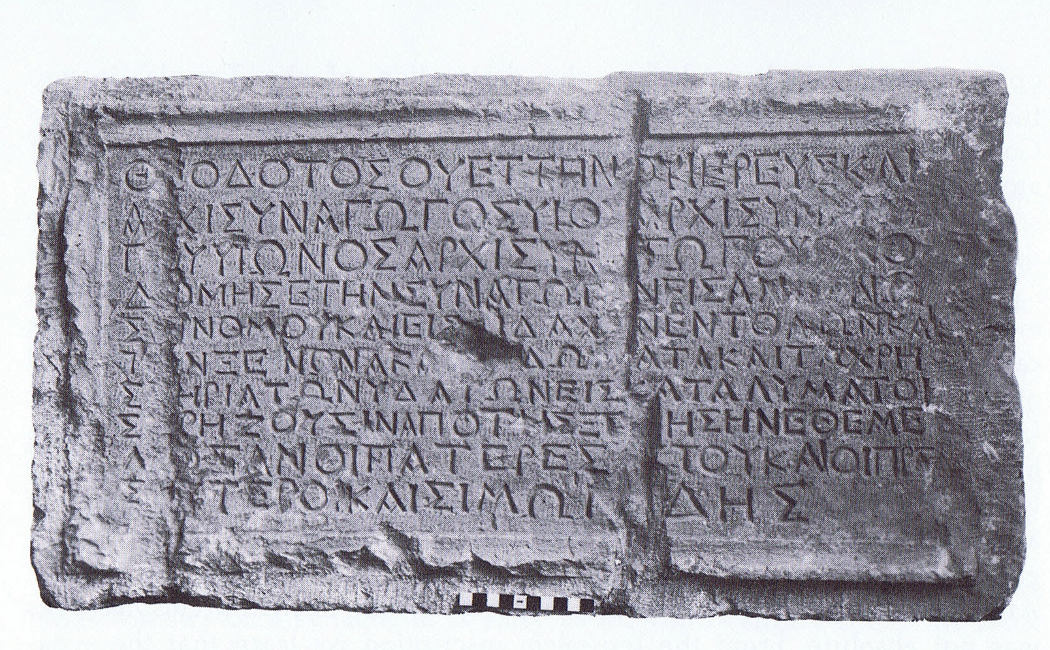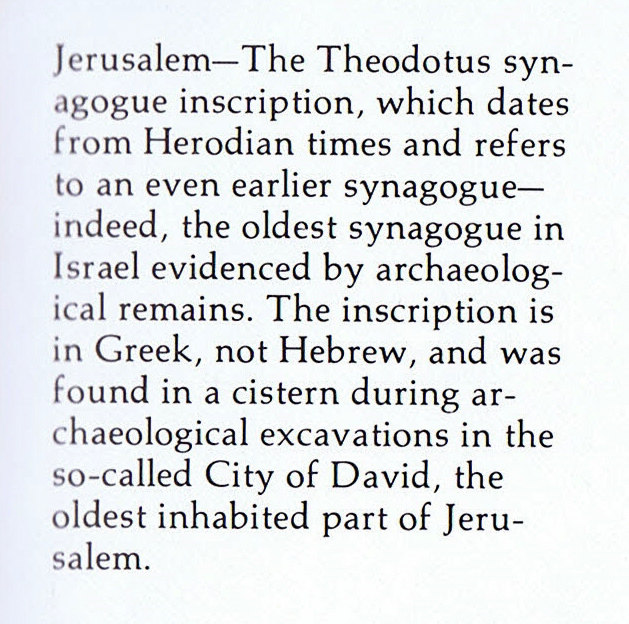 pp19

pp20
"For the Talmud tells us that before the Roman destruction of the Temple, there were 394 synagogues in Jerusalem, and gives us much the same picture of the synagogue as the one offered by the Jerusalem synagogue inscription."
Thus a primary language of the Jews at the time of the Temple is literally set in stone. Greek.
Here, Lesson Four and Lesson Eight makes some good points. I disagree with "Luke was a gentile".
Q. How do we know the New Testament was "originally" (inspired) in Greek?
A. a consistent translation proves it.
and perhaps -:
"to-Jew first and to-Greek."
in this view:
"Old" testament, first in Hebrew then Greek (LXX/Septuagint)
IF a pattern, keep in mind this order:
"New" Testament, first in Hebrew (unknown) then Greek (what we have)
Thus, the Greek New Testament is validated. (Even IF following the Hebrew, the Greek is still original.)
With this in mind, one can't help but think of the 4 levels of understanding.
and dimensional arrays.
Mind-boggling!
Hebrew New Testament?
To paraphrase: "The only New Testament manuscripts known to exist are written in Greek.
Never-the-less, we feel like it should have been written in Hebrew.
So there.
The Greek word for "poor" is ptochos and means one who is destitute, afflicted, and lacking.
If we translate ptochos into hebrew, we get aniy which also means destitute, afflicted and lacking.
oops, that's the same. So we make up our own definition that we like: "bent down low"
But, we still don't like that definition, so we pick humble, pretty much out of thin air,
and because we like it better!!!
So THEN we basically just decide to translate ptochos to humble - Because we can! "
Thus the theology:
until we find the Hebrew text, we will pick and choose out of the Greek by Barbara Streisand feelings
Gobbledegook.
---
Pagan's "living god" deathly ill ( bretbart ) april 5
that's a bummer, man. MILLIONS of followers, lol.
Drudge Report asks:
WHAT ABOUT IVORY COAST? (france24) april 3
UN backed candidate's forces murder 1000 ( telegraph.co.uk ) april 3
of note "The apparent massacre came despite the presence of United Nations troops"

ANSWER: Genesis 9:20-27 American Standard Version 1901
Gen 9:20 - And Noah began to be a husbandman, and planted a vineyard:
Gen 9:21 - and he drank of the wine, and was drunken. And he was uncovered within his tent.
Gen 9:22 - And Ham, the father of Canaan, saw the nakedness of his father, and told his two brethren without.
Gen 9:23 - And Shem and Japheth took a garment, and laid it upon both their shoulders, and went backward, and covered the nakedness of their father. And their faces were backward, and they saw not their father's nakedness.
Gen 9:24- And Noah awoke from his wine, and knew what his youngest son had done unto him.
Gen 9:25 - And he said, Cursed be Canaan; A servant of servants shall he be unto his brethren.
Gen 9:26 - And he said, Blessed be Jehovah, the God of Shem; And let Canaan be his servant.
Gen 9:27 - God enlarge Japheth, And let him dwell in the tents of Shem; And let Canaan be his servant.
Makes me wonder about the history of African slavery. ??
Picture of Jesus found, with ancient books in Israel ( mail online ) april 3
Is the USA in Libya providing cover for Gadhafi ? ( yahoo ) mar 29
not April Fools Day yet
Populism? USA recommended! ( yahoo ) mar 24
This apparently scrubbed from article, but not comments:
"(Gates) will make the general argument that ... the Israelis have a very deep strategic interest in getting out in front of the wave of populism that's sweeping the region," a U.S. official said, speaking anonymously because he wasn't authorized to speak on the record. "Showing real progress on the peace track with the Palestinians would put them in a much better position for where the region's likely to be in six months or a year from now."
what a bunch of gobbledegook
Is Libya about OIL? Probably not, or at least not as the typical perception.
Al Qaeda backs Libyan rebels. ( jerusalem post ) mar 13
(so USA is on the same side as Al Qaeda here)
Glenn Beck comments ( fox news ) mar 23
Who owns the Oil and the Wine?
Russian President Medevev really digs Deep Purple, man. (bloomberg ) mar 23
like, psychedelic, baby.
nice to keep the world "leaders" in their perspective
Unreported Soros Event Aims to Remake Entire Global Economy (business & media institute ) mar 23

Terrorist Attack a Jerusalem Bus Station ( israel national news ) mar 23
Muslims Continue Pushing Christians Out of Bethlehem ( israel national news )
this dated sept 2008
mainstream media ignores Obama's Abu Ghraib ( the green room ) Mar 21
Palin at Kotel tunnel: Israel too apologetic ( jerusalem post ) Mar 20
Palin does Purim
Meanwhile, Pelosi passing out in Rome - drunk, you suppose?
In the proof that the battle is for Jerusalem department:
Israel concedes yet another piece of Jerusalem ( ap ) Mar 20
This time to Russia
What if Arabs had recognized the State of Israel in 1948? ( arabnews.com) Mar 19
Arab News .com
US Citizen convicted of making silver coins ( dept of "justice" FBI website ) Mar 18
The Liberty Dollar, Feds call it "terrorism", steal his silver worth $7 million
meanwhile
USA jumps into a third war ( abc news ) Mar 18
now,
USA too thin to defend
WikiLeaks Assange takes credit for Arab uprisings ( reuters ) Mar 15
Assange says internet blocks freedom ! ( breitbart ) Mar 15
IN Israel, Palestinian murders sleeping Jews. ( reuters ) Mar 13
UPDATE: murderers trained by US ( worldnetdaily ) Mar 15
Dead fish on CA coast a few days before Japan quake.
Get out: Big aftershock predicted ( Sydney Morning Hearald) Mar 13
Praying for our Brothers and Sisters in Japan
Quake moves Japan 8 feet ( cnn ) Mar 12
Massive quakes in Japan economic outlook ( npr.org ) Mar 10
might slow oil consumption for a bit - Japan now 3rd largest economy just behind China
but later, they probably won't return to nuke (free) power?-on second thought, not much choice.
update: 6 reactors fail ( kyodo news ) Mar 13
update: Devastation In Japan Leads To Drop In Gas Prices ( cbs chicago ) Mar 14
OKlahoma City Bomber #2? ( patriotledger.com ) Mar 10
naw, he was just a Saddam Hussein operative in the USA seen with Tim McVeigh before the bombing.
We've killed Saddam and McVeigh so they won't be telling any stories.
WikiLeaks Suspect lightly tortured ( baltimore cbs ) Mar 4
Sadly, Big Bro is Big Daddy to too many. Hence a comment chorus cheering..
Here comes the lie: 'Islam will solve U.S. financial crisis' ( worldnetdaily ) Mar 3

hmmm department: 'Qaddafi is Jewish and I'm His Cousin' ( Isralel National News ) Mar 2

Caroline Glick on the New Middle East ( Jerusalem Post ) Feb 25
Obama extends of "Patriot" Act ( washington post ) Feb 25

Earthquake Shakes Up Suez Canal as Iran Warships Approach
earthquakes increasing everywhere...
Israel Cabinet Rejects Sovereignty on Jewish Towns of Judea, Samaria (arutz sheva) Feb 20
"a bill that would have placed the Jewish communities of Judea and Samaria under Israeli sovereignty"
Unrest in Iran, Algeria, Yemen, Morocco, China [and Wisconsin]... (drudgereprt/guardian) Feb 19
and Lybia Gaddafi flees Tripoli (drudgereprt/mail online) Feb 20 (apologies for the trash on this page)
Feb 20 am - gold over $1400, silver over $32, oil up over $4 to +$90
and the "protesters" will be worse off because they have closed their store.
scripture warned 2000 years ago, be not high minded, God sets up rulers, better to let alone the things you don't understand ......
And it is coming to America....
Connecting the dots to anarchy (worldnetdaily/Patrice Lewis) Feb 19

still time to "buy food now"
Obama Knows He Unleashed Chaos (arutz sheva) Feb 19
Fear of 'Catastrophic' Crash Rising Despite Bull Market (cnbc) Feb 19
Hedge funds have increased leverage again to pre-Lehman levels.
change: US vetoes anti-settlement resolution (ynetnews.com) Feb 18
UN "security" council not concerned with riots in Egypt, Yemen, Jordan etc etc.
USA clueless (ynet news) Feb 16

Get ready for higher food prices (omaha world herald) Feb 10
and it could "backfire" on Obama, (DEBKAfile) Feb 3
(but he doesn't care)
UPDATE Feb 10: Mubarak out?
ignorant mobs are such a useful tool (c/f Obama elected)
and going lightly,
when Egyptians get to vote....
U.S. Administration In Contempt Over Gulf Drilling Moratorium, Judge Rules (bloomberg) Feb 3
as a result, higher gas & heating oil prices for Americans
recent re-cap
USA seeks to harm Israel via facilitating unrest in Egypt (Israel's mideast peace "partner")
Massive storm hits USA. (dailymail) Feb 3
Paraphrasing: ["I will bless those that bless Israel, & curse those that don't"]
Mammoth storm leaves bitter cold, destruction (mywaynews) Feb 3
that's expensive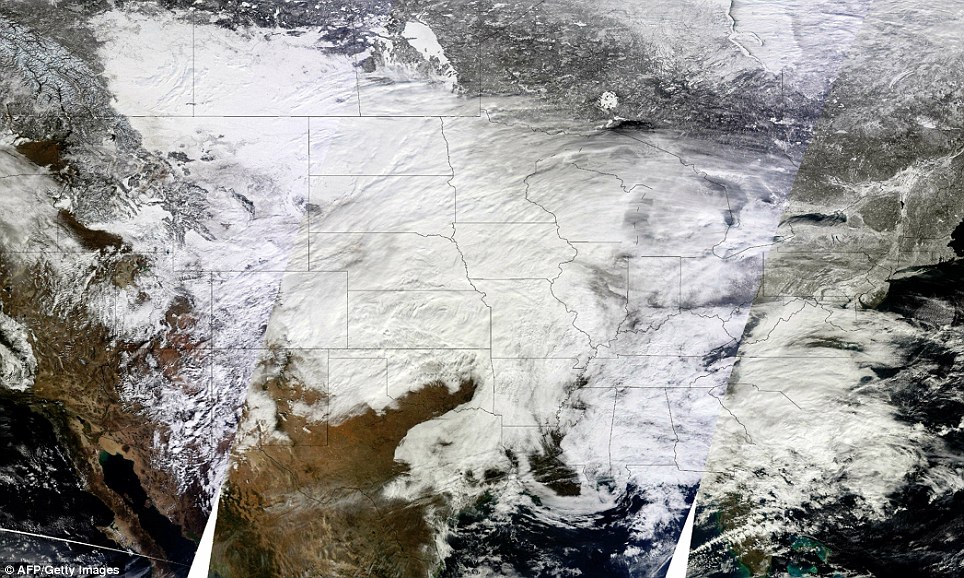 nasa photo
UN to evacuate staff from Egypt (mywaynews) Feb 3
IF only there was such "unrest" in Israel, the UN would be going there to "save" the world.
The UN wants unrest/riots in Egypt.
World food prices hit record high (breitbart) Feb 3
food fights ensue - at least it is an excuse for such
U.S. 'held secret meeting with Muslim Brotherhood' (worldnetdaily) Feb 1
Judge strikes down healthcare reform law (reuters) Jan 31
"A White House official told reporters the administration planned to continue with implementation of the law."
Once again, scientists prove man is not an ape (mailonline) Jan 29
In the never to see the light of day department:
British scientists "invent" hydrogen fuel (mailonline) Jan 29 (forgive the skanks on the right side column..)
'The fact the hydrogen is cheaper now doesn't mean it always will be because the Government would soon get its hands on it and increase the tax.'
Water derived hydrogen fuel has been "invented" for a long time.
In the Battle against Jerusalem department:
USA backs uprisings in Egypt. (telegraph) Jan 29
Egypt riots organized in the US on Facebook?
Obama continues Bush era policies
Just as the USA has facilitated the creation of radical islamic fundamentalist governments in Iraq and Afghanistan.
Under Mubarak, Egypt alone maintains peace with Israel. The USA can't have that.
USA wants "democracy" i.e. defined nowadays as where the mob incapable of thinking, rules. Reference - Democrat/Republican. And Wal-Mart shoppers as a source for 'homeland' security tips on terror.
Obama studies Reagan (time) Jan 27
Dec. home sales up 17.5% over Nov.
BUT
New-home sales in 2010 fall to lowest in 47 years (yahoo finance) Jan 26

U.S. closes four banks, biggest is in Denver (reuters) Jan 21
Moscow reaffirms Soviet recognition of Palestine (reuters) Jan 16
continuing the trending against Israel since Rome plowed Jerusalem.
Again, the battle is for Jerusalem.
States owe Fed. Govt. interest on "stimulus" loans (newyourktimes) Jan 14
solution: "effectively raise federal taxes on employers by about $21 per worker"
much more than $21 with unemployment
Pope John Paul II to be beatified May 1 (yahoo news) Jan 14
"Once he is beatified, John Paul will be given the title "blessed" and can be publicly venerated"
an idolater becomes an idol. So goes the paganism of Rome.
I always get "beatified" mixed up with "beautified"....
Israel troops on alert after Lebanon govt falls (myway/ap) Jan 13

World moves closer to food price shock (financial times) Jan 13
ag jobs here, less cooking oil in China, this derived from US report.
Concerning the Jews:
along with Romans 3:1
Romans 11:28 Consistent Translation by R.H. Mount
"On-the-one-hand enemies according-to the good-news because-of YOU, on-the-other-hand cherished ones according-to the choice because-of the fathers;"
Initially seeming odd, but in truth seen as the perfection of the Word,
This applies to Messianic Jews also.
?!!!
(Perhaps, this applies ONLY to the Messianic Jew?)
Know your enemy. Love your enemy.
On the other hand, very, very few individuals, Jew or Gentile, believe Jesus/Yeshua is The God Almighty Jehovah/Yahweh.
Obama Eyeing Internet ID for Americans (cbs news) Jan 8

Gabrielle Giffords, Arizona's first Jewish member of Congress shot (dailymail) Jan 8
will it be called a hate crime?
a "blue dog" democrat
"A long-time gun owner, Giffords supported the Second Amendment to the Constitution on the right of Americans to bear arms"
Weird Blackbird Deaths (2theadvocate) Jan 4
"hundreds"
photo shows about 25 birds per 300 square feet
Happy New Year 2011