---
"To lead someone to Christ"
a note Dad left behind
---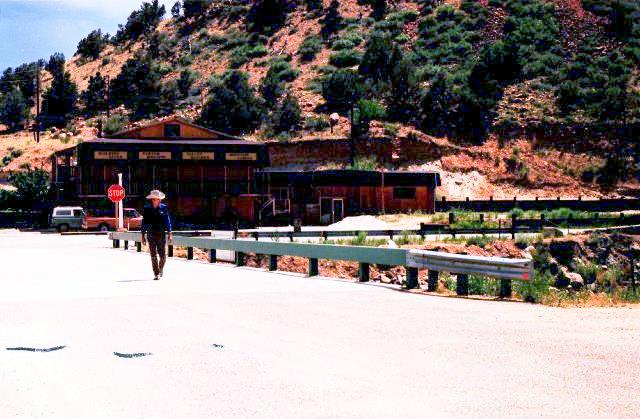 The other day I picked up a little King James version pocket bible that was on a bookshelf in our back room. I had forgotten about it, but happened to see it and remembered my daughter Rachel mentioning wanting a small bible. I thought it might work for her.
I opened it up and recognized the handwriting in green ink inside the front cover as that of my Dad, Leon B. Moore.
Dad passed on in 1992.
It reads:
"To lead someone to Christ"
"John 5-24"
So I flipped over to this passage and found the verse marked by a green ink pen line rectangle. On the top of the page was written:
"Key to salvation"
" #1 To lead a soul to Christ" (written vertically on the side of the page)
v24 "Verily, verily I say unto you, He that heareth my word, and believeth on him that sent me, hat everlasting life, and shall not come into condemnation; but is passed from death unto life."
"To John 1-12" (again on the side of the column)
This passage comes to life as just over the past couple of days God is revealing to me a better understanding of the connection between Jesus/Yeshua and the living bread, the true bread from heaven that is the Word that is HIS flesh that we participate in on Passover.
I notice that there are just a few markings in this little bible. I move over to this passage:
"Power to become his"
#2
v12 "but as many as received him, to them gave he power to become the sons of God, even to them that believe on his name:"
"- To Eph 2-8/9"
I remember on my morning commute to work in the gypsum quarry in Coaldale as I turn off the bridge in Cotopaxi and head west I could see Dad, through a window at the "station", lit by a solitary lamp, sitting at a desk. I knew he was studying the bible. Often he would look up at me as I passed by. He didn't wave often. He didn't smile.
"Easy for you,", I said. "I have to go to work."
"Your work isn't so hard", he replied.
"I'm not even 30. I have a lot of work to do."
"You're telling me?" Dad, with a slight shake of his head, turns back to the bible.
"I don't even have ONE bag of gold" I mutter.
"It is a gift to us"
#3
vs8 For by grace are ye saved through faith; and that not of yourselves: it is the gift of God:
vs9 Not of works, lest any man should boast.
- To John 3-16
I was so proud of myself that evening. My verse to memorize for vacation bible school at Prairie Baptist Church was John 3:16, and I REMEMBERED IT!
"You did? Can you remember it now?"
Yes. I remember, Dad.
"God love to us ward" Honey, what does this say? Can you read his writing? Dad died before we were married.
#4
John3:16 For God so loved the world, that he gave his only begotten Son, that whosoever believeth in him should not perish, but have everlasting life.
- To Rom 10-17
I walk with Dad over to this place.
Me: "Dad, this path is narrow and straight. How would a person get FIVE bags of gold through here?"
Dad: "You keep repeating 'God's lovingkindness endureth forever'.
Me: "You keep telling me it is either really easy or really hard".
Dad: "You keep saying 'Either way is OK, as long as you do it".
Me: "Ok. It's sinking in"
Dad, reading: "mmm-hmmm".
#5
Romans 10:17 So then faith cometh by hearing, and hearing by the word of God.
- to Rom 10-9/10
I feel like I might be taking a test.
I'm in the preacher's office at Prairie Baptist Church, rural Indiana. It was on the corner of a field. Me, Dad, and the Preacher.
Preacher: "Have you prayed to God asking for salvation in Jesus?"
Me "Yes."
Preacher: "Well, let's do it again."
#6
vs9 That if thou shalt confess with thy mouth the Lord Jesus, and shalt believe in thine heart that God hat raised him from the dead, thou shalt be saved.
v10 for with the heart man believeth unto righteousness; and with the mouth confession is made unto salvation.
To Rom 10-13
Dad didn't ask how it happened. After two days in bed I had my roommate contact my folks to request some painkiller (Mom was Nurse Practitioner at Custer County Clinic). I think it was the only time he visited me at the place I was renting on Cottonwood Creek. He just said I should go have Mom x-ray my neck. I did. It was broke.
Some "friends" and I were camping. When I fell out of the tree, near the top of Hayden Pass, I landed on my back on rocks. I felt myself "falling" into the ground and at the same time away from my body. I had some prior experience passing-out, and this wasn't the same. This was scary.
I called out "NO NO LORD JESUS I'M NOT READY YET".
Immediately I was back in body, with incredible neck pain, and the woman - another man's wife that was there - was in my face sternly saying "NO. You don't say THAT."
That was a trip.
#7
Romans 10vs 13 For whosoever shall call upon the name of the Lord shall be saved
To John 3-36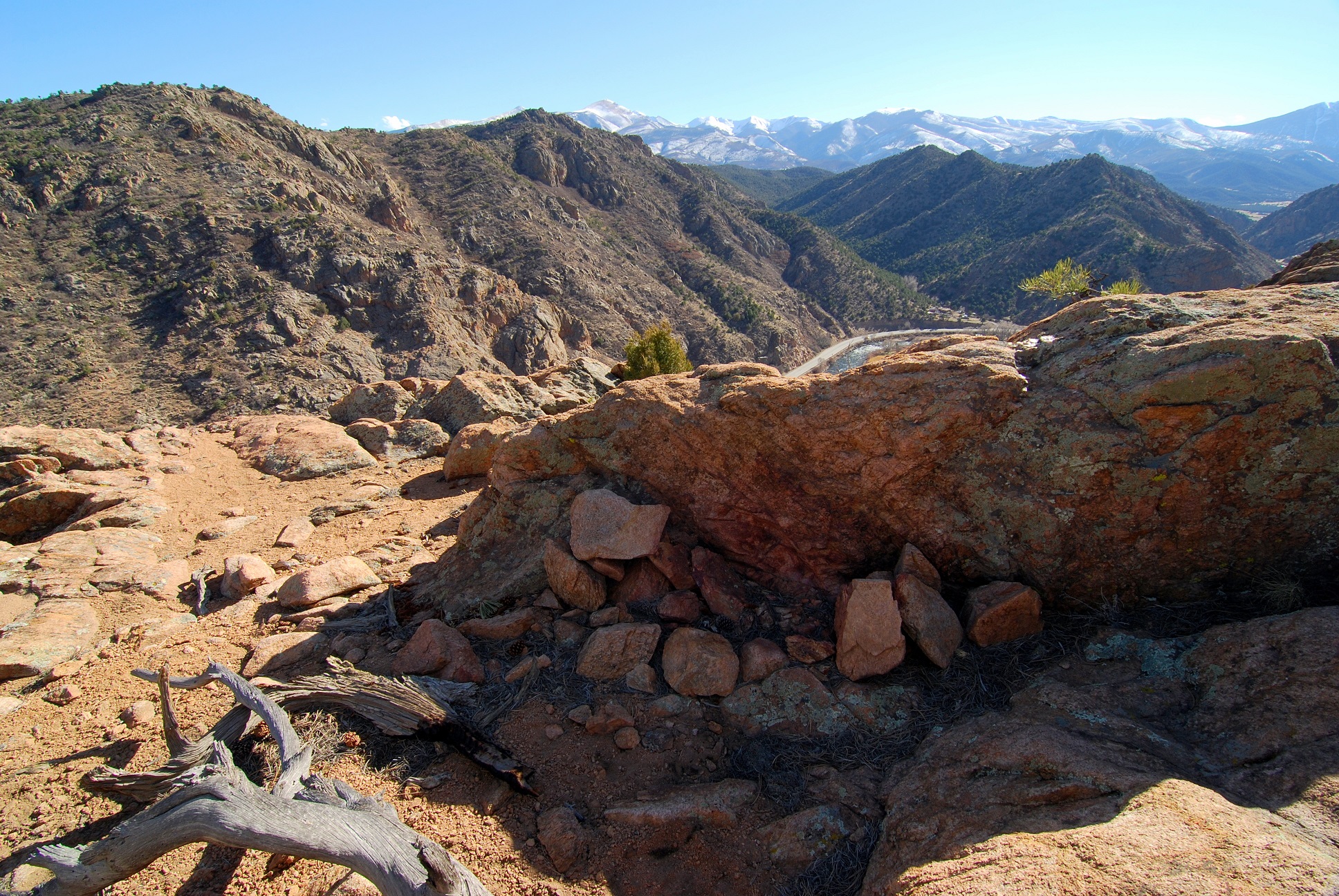 Fire pit at edge of cliff, revisited Mar 24, 2020
Some time after Dad died, I took a bottle of some booze up to his gravesite, sat and drank a bit, then hiked - drinking - in the dark moonlight - up the cliffs and made a big fire at the top. I danced along the edge. All night I mourned my loss and my loneliness. I shouted out with my Rueben's heart to God for help.
"You know, I was really close to the edge that night." I say.
Dad doesn't look up from the bible. "mmm hmmm"
Within a year I was married.
Dad left this bible with just a few connected notes in order to help someone get started reading.
Me, this morning with my family at our morning bible read: "I found this bible that your grandpa had with a few notes connecting some verses. Ok if we read this today?"
Family: "Sure!"
"Salvation is forever"
# 8
John 3:36 He that believeth on the Son hath everlasting life: and he that believeth not the Son shall not see life: but the wrath of God abideth on him.
To 1st John 5-11/13
Me, 8 or 9 years old: "Dad, why did I have to ask Jesus to be my Lord and Savior again?"
years later, Dad: "It's either really easy, or really hard."
Me, today: "The preacher was weak. It was hard for him. So we made it easier for him."
Dad: "mmm-hmmm"
"Assurance"
# 9
1 John 5
vs11 And this is the record, that God hath given to us eternal life, and this life is in his Son
vs12 He that hath the Son hath life; and he that hath not the Son of God hath not life.
vs13 These things have I written unto you that believe on the name of the Son of God; that ye may know that ye have eternal life, and that ye may believe on the name of the Son of God.
I got off work earlier than a lot of people.
Dad: "Got your work done for the day already?"
I note the sarcasm.
Sometimes I don't stop by after work. "I've done my work. You do your work, I'll do mine."
Dad was scared. "I might not make it."
I get faint at the thought of blood. When a friend had a hysterectomy, I visited, but couldn't stand up in her room.
Post experimental heart surgery, Dad had 12 iv lines hooked up to him. I have to be strong. And so I am.
Hospice has been in and out for about a month.
Mom drew a sketch of Dad.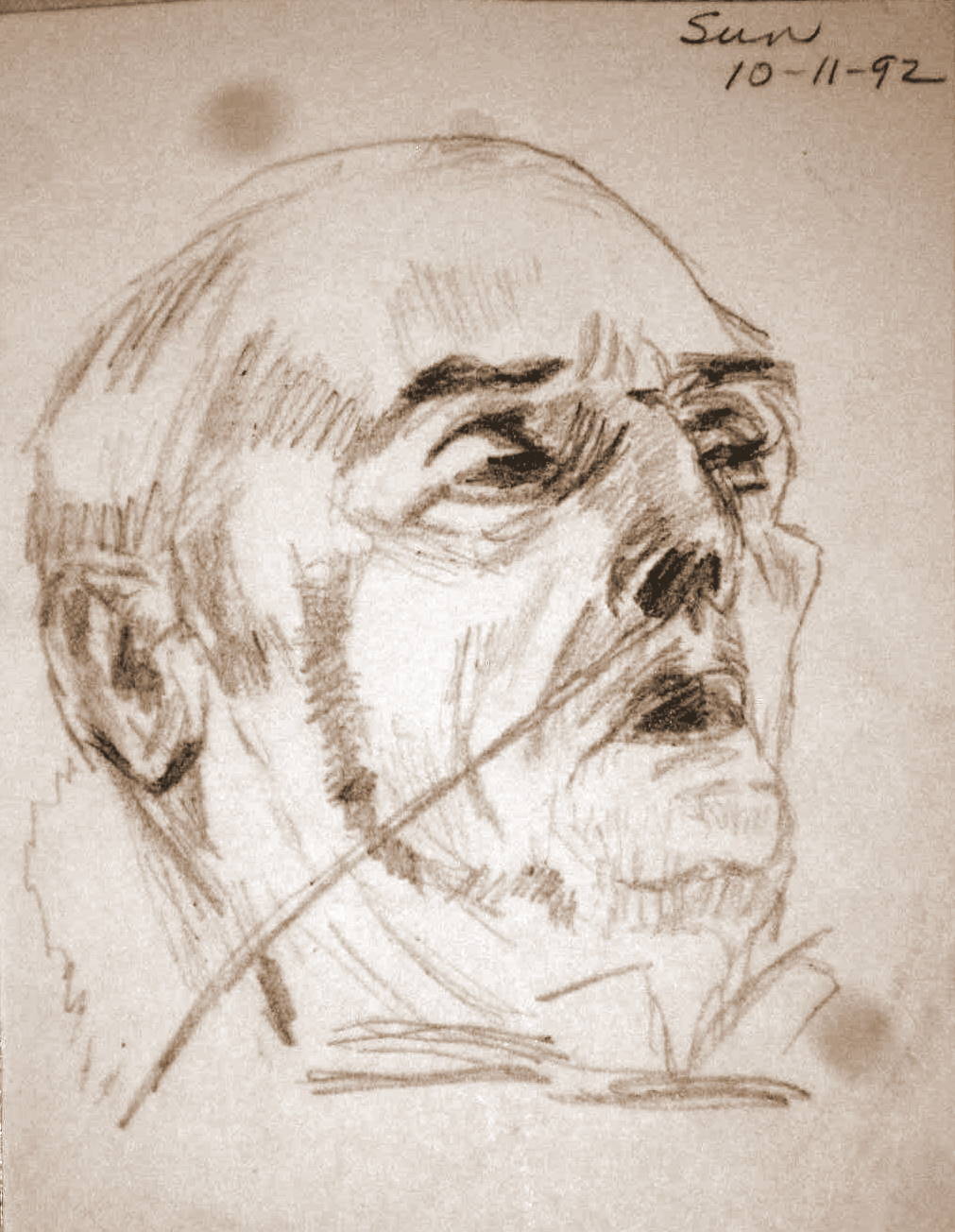 I gently rub Dad's head. It seems to make him feel better. His eyes are glassy, hazy, he just stares straight forward.
His breath is ragged and shallow. He can't speak...even if he had the strength the hole in his throat would prevent it.
He coughs. Some fluid blocks the hole. I dutifully clean it. I wish I could do more.
Me, out loud: "I love you".
Me, in my heart: "Dad, I've said some bad things to you. I've not been the best son. I'm sorry. I'm glad that we have long since reconciled. I'm proud to be your son. Thanks for everything."
Through the thin bible page I see there is one last place Dad has made a note at. I flip the page back to 1 John 1.
vs 8 and 10 are underlined.
"All have sinned and do sin"
vs 8 If we say that we have no sin, we deceive ourselves, and the truth is not in us.
vs 10 If we say that we have not sinned, we make him a liar, and his word is not in us.
Dad blinks and is eyes move and focus on me. He closes and squints his eyes and almost imperceptibly nods his head and mouths "I know. I love you"
This was the last communication I had with Dad before he passed on.
I read/live/eat/participate onward:
1 John 2:1 My little children, these things write I unto you, that ye sin not. And if any man sin, we have an advocate with the Father, Jesus Christ the righteous;
vs2 And he is the propitiation for our sins: and not for ours only, but also for the sins of the whole world.
I hear from my Dad and more importantly, from my Father YHVH in heaven:
"I love you too, son."
Blessed is the name of YHVH Elohim. His loving-kindness endures forever.
posted May 8, 2012
addendum
For His Lovingkindness endures forever.
On March 24, 2020, I revisited the cliffs at Cotopaxi. I went with my children Rachel (21) and Jacob (19). I offered a prayer of thanks to YHVH Elohim, in Messiah Yeshua's name.
For His Lovingkindness endures forever.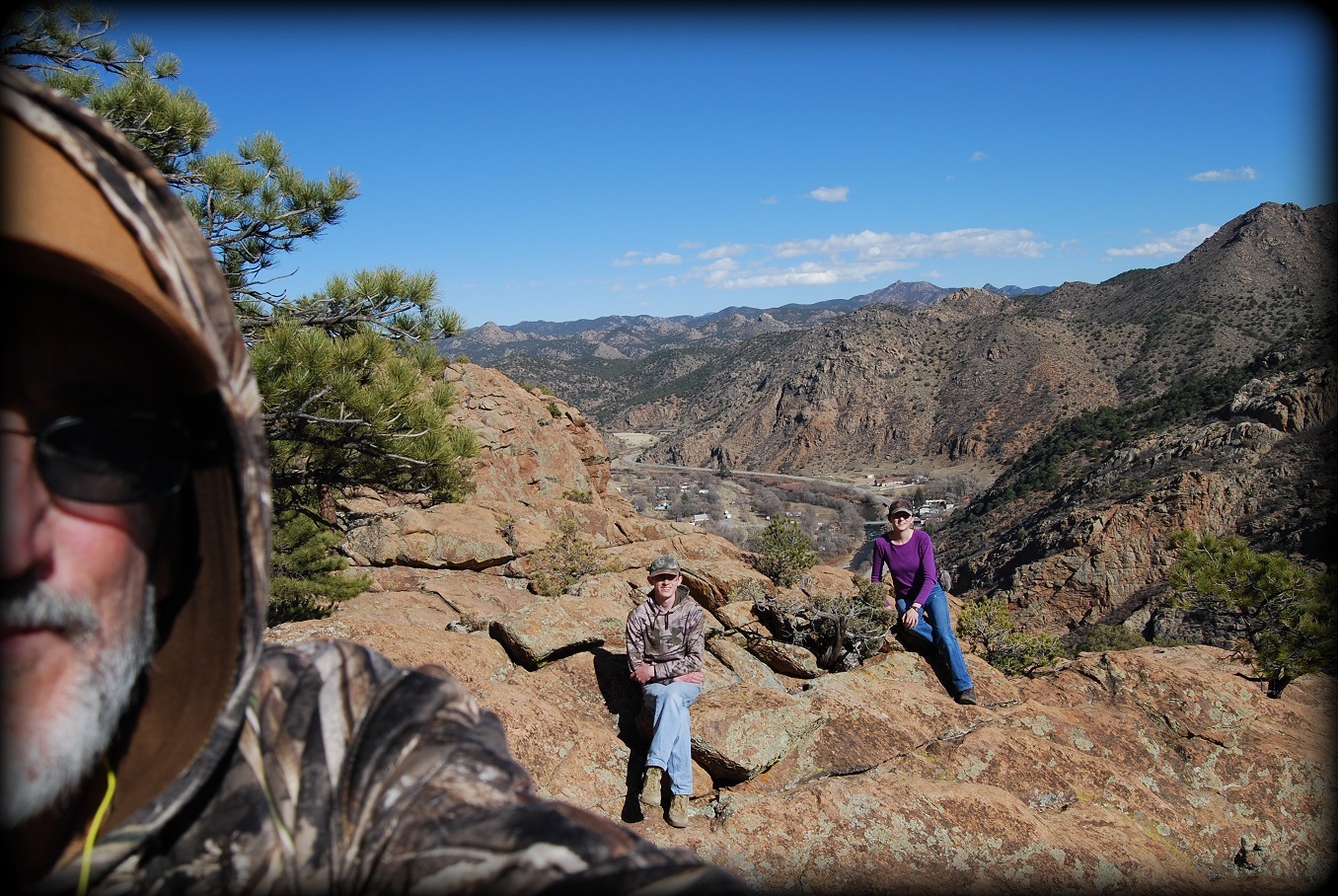 ---
---
Copyright © 2012-2020 Nelson Moore