"I well remember a girl, slim and with black hair, who, as she passed close to me, pointed to herself and said, '23'."
~~~~~~~~~~~~~~~~~~~~~~~~~~~~~~~~~~~~~~~~~~~
January 27 is International Holocaust Remembrance Day.
~~~~~~~~~~~~~~~~~~~~~~~~~~~~~~~~~~~~~~~~~~~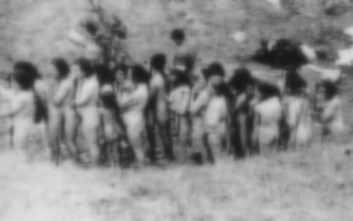 linked photo: Jewish women from the Mizocz Ghetto in the Ukraine, which held roughly 1,700 Jews. Some are holding infants as they are forced to wait in a line before their execution by Germans and Ukrainian collaborators.
[Photo credits: https://collections.ushmm.org/search/catalog/pa1065461]

~~~~~~~~~~~~~~~~~~~~~~~~~~~~~~~~~~~~~~~~~~~
One eyewitness account of the Holocaust follows.
Before me, Homer B. Crawford, being authorized to administer oaths, personally appeared Hermann Friedrich Graebe, who, being by me duly sworn through the interpreter Elisabeth Radzie-Jewska, made and subscribed the following statement:

I, Hermann Friedrich Graebe, declare under oath:

From September 1941-January 1944 I was manager and engineer-in-charge of a branch office in Sdolbunow, Ukraine, of the Solingen building firm of Josef Jung. In this capacity it was my job to visit the building sites of the firm. Under contract to an Army Construction Office, the firm had orders to erect grain storage buildings on the former airport of Dubno, Ukraine.

On 5 October 1942, when I visited the building office at Dubno, my foreman Hubert Moennikes of 21 Aussenmuehlenweg, Hamburg-Haarburg, told me that in the vicinity of the site, Jews from Dubno had been shot in three large pits, each about 30 meters long and 3 meters deep. About 1500 persons had been killed daily. All of the 5000 Jews who had still been living in Dubno before the pogrom were to be liquidated. As the shootings had taken place in his presence he was still much upset.

Thereupon I drove to the site, accompanied by Moennikes and saw near it great mounds of earth, about 30 meters long and 2 meters high. Several trucks stood in front of the mounds. Armed Ukrainian militia drove the people off the trucks under the supervision of an SS-man. The militia men acted as guards on the trucks and drove them to and from the pit. All these people had the regulation yellow patches on the front and back of their clothes, and thus could be recognized as Jews.

Moennikes and I went directly to the pits. Nobody bothered us. Now I heard rifle shots in quick succession, from behind one of the earth mounds. The people who had got off the trucks -- men, women, and children of all ages -- had to undress upon the order of an SS-man, who carried a riding or dog whip. They had to put down their clothes in fixed places, sorted according to shoes, top clothing and underclothing. I saw a heap of shoes of about 800 to 1000 pairs, great piles of under-linen and clothing. Without screaming or weeping these people undressed, stood around in family groups, kissed each other, said farewells and waited for a sign from another SS-man, who stood near the pit, also with a whip in his hand. During the 15 minutes that I stood near the pit I heard no complaint or plea for mercy. I watched a family of about 8 persons, a man and woman, both about 50 with their children of about 1, 8 and 10, and two grownup daughters of about 20 to 24. An old woman with snow-white hair was holding the one-year old child in her arms and singing to it, and tickling it. The child was cooing with delight. The couple were looking on with tears in their eyes. The father was holding the hand of a boy about 10 years old and speaking to him softly; the boy was fighting his tears. The father pointed toward the sky, stroked his head, and seemed to explain something to him. At that moment the SS-man at the pit shouted something to his comrade. The latter counted off about 20 persons and instructed them to go behind the earth mound. Among them was the family, which I have mentioned. I well remember a girl, slim and with black hair, who, as she passed close to me, pointed to herself and said, "23". I walked around the mound, and found myself confronted by a tremendous grave. People were closely wedged together and lying on top of each other so that only their heads were visible. Nearly all had blood running over their shoulders from their heads. Some of the people shot were still moving. Some were lifting their arms and turning their heads to show that they were still alive. The pit was already 2/3 full. I estimated that it already contained about 1000 people. I looked for the man who did the shooting. He was an SS-man, who sat at the edge of the narrow end of the pit, his feet dangling into the pit. He had a tommy gun on his knees and was smoking a cigarette. The people, completely naked, went down some steps which were cut in the clay wall of the pit and clambered over the heads of the people lying there, to the place to which the SS-man directed them. They lay down in front of the dead or injured people; some caressed those who were still alive and spoke to them in a low voice. Then I heard a series of shots. I looked into the pit and saw that the bodies were twitching or the heads lying already motionless on top of the bodies that lay before them. Blood was running from their necks. I was surprised that I was not ordered away, but I saw that there were two or three postmen in uniform nearby. The next batch was approaching already. They went down into the pit, lined themselves up against the previous victims and were shot. When I walked back, round the mound I noticed another truckload of people which had just arrived. This time it included sick and infirm people. An old, very thin woman with terribly thin legs was undressed by others who were already naked, while two people held her up. The woman appeared to be paralyzed. The naked people carried the woman around the mound. I left with Moennikes and drove in my car back to Dubno.

On the morning of the next day, when I again visited the site, I saw about 30 naked people lying near the pit -- about 30 to 50 meters away from it. Some of them were still alive; they looked straight in front of them with a fixed stare and seemed to notice neither the chilliness of the morning nor the workers of my firm who stood around. A girl of about 20 spoke to me and asked me to give her clothes, and help her escape. At that moment we heard a fast car approach and I noticed that it was an SS-detail. I moved away to my site. 10 minutes later we hear shots from the vicinity of the pit. The Jews still alive had been ordered to throw the corpses into the pit -- then they had themselves to lie down in this to be shot in the neck.

I make the above statement at Wiesbaden, Germany, on 10 November 1945. I swear before God that this is the absolute truth.

Hermann Friedrich Graebe

Subscribed and sworn to before me at Wiesbaden, Germany, 10 November 1945.

Homer B. Crawford Major, AC Investigator Examiner, War Crimes Branch

I, Elisabeth Radziejewska, being first duly sworn, state: That I truly translated the oath administered by Major Homer B. Crawford to Hermann Friedrich Graebe and that thereupon he made and subscribed the foregoing statement in my presence.

Elisabeth Radziejewska Interpreter
Subscribed and sworn to before me at Wiesbaden, Germany, 10 November 1945.

Homer B. Crawford,
Major, AC Investigator Examiner,
War Crimes Branch
Source: http://forum.axishistory.com/viewtopic.php?t=61761
"These documents speak for themselves. They are collected at "Document 2992-PS: Affidavit of Hermann Friedrich Graebe [translation]", in Nazi Conspiracy and Aggression. Volume V: US Government Printing Office, District of Columbia: 1946. pp. 696-703"
~~~~~~~~~~~~~~~~~~~~~~~~~~~~~~~~~~~~
~~~~~~~~~~~~~~~~~~~~~~~~~~~~~~~~~~~~
Revelation 6:10 "And they-cried with-(a)-great voice saying: Till at-what-time, the despot namely-the holy and authentic, are-you not judging and avenging our blood out-of the (ones) residing on the earth?"
~~~~~~~~~~~~~~~~~~~~~~~~~~~~~~~~~~~
Isaiah 40:1-2 "Comfort ye, comfort ye my people, saith your God. Speak ye comfortably to Jerusalem; and cry unto her, that her warfare is accomplished, that her iniquity is pardoned, that she hath received of Jehovah's hand double for all her sins."
~~~~~~~~~~~~~~~~~~~~~~~~~~~~~~~~~~~
Psalm 122:6 Pray for the peace of Jerusalem: They shall prosper that love thee.
7 Peace be within thy walls, And prosperity within thy palaces.
8 For my brethren and companions' sakes, I will now say, Peace be within thee.
9 For the sake of the house of Jehovah our God I will seek thy good.
~~~~~~~~~~~~~~~~~~~~~~~~~~~~~~~~~~~
Revelation 22:20 The (one) witnessing these-things is-saying: Yea I-am-coming speedily. Amen, you-be-coming, Lord Jesus.
v21 The favor of-the Lord Jesus (be) with all.

~~~~~~~~~~~~~~~~~~~~~~~~~~~~~~~~~~~
January 27 is International Holocaust Remembrance Day.
http://www.hebrew4christians.com/Holidays/Winter_Holidays/IHRD/ihrd.html
~~~~~~~~~~~~~~~~~~~~~~~~~~~~~~~~~~~
Much of this information on this page is also on pp 62-63 of Discourse 8: Bible Translation ---The Serpent's "Playground", by R.H. Mount.
http://www.cotopaxi-colorado.com/I_well_remember_a_girl.htm
---
Cotopaxi, Colorado
Copyright © 2015-2020 Nelson Moore.
---
- ><((((º> -